Information is subject to change, please continue to check our website and social media accounts for the most recent library news.
UPDATE:
Our library is closed until we receive guidance that it is safe to open, but staff are working to help as best we can!
Following the directive of Burnet County, the Marble Falls Public Library will be closed to the public beginning March 19, 2020. We are grateful to our patrons for understanding this decision. While the building is closed, our commitment to serving our patrons has not changed. The Marble Falls Library staff will continue to provide services in a way that keeps our community healthy and safe. Please take advantage of our online electronic resources and curbside services while the building is closed. We will post any changes in our weekly newsletter and on our website and social media accounts. All items that are currently checked out will have extended and flexible due dates. You may return items to the book drops that are attached to our building, but we would prefer you just hang on to them for now. All fines are being waived at this time.
The following services will be available to you while the building is closed:
Curbside Service – call 830-693-3023
Phones will be operational for questions or concerns
Wifi available from our parking lot and benches
RBdigital
-eBooks & eAudiobooks
-Digital newspapers & magazine
-Streaming: Acorn TV, Pongolo, IndieFlix, and Qello music
-Online learning: The Great Courses, Transparent Language, and more!
Online research: TexShare Databases
Austin American Statesman online
Give us a call or visit marblefallslibrary.org/eservices for more details on how to access the vast amount of online electronic resources we offer.
Please continue to check our webpage or give us a call for updates. From the entire Marble Falls Library staff, know that the safety and health of our patrons are our top priority, and we look forward to opening our doors to serve you again!
If you do not have a library card but wish to access our digital services, you can apply for a temporary digital card by clicking here. Please note that you will need to apply for a physical library card to continue having access to RBdigital after the library reopens.
---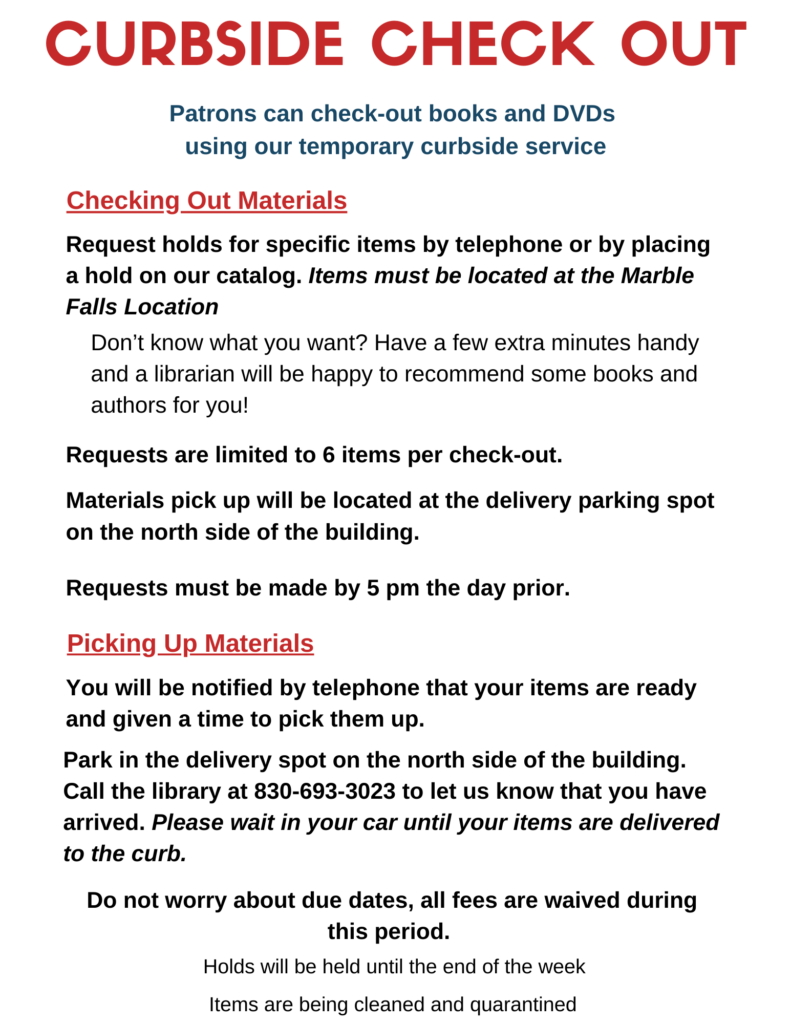 RESOURCES:
The CDC (Center For Disease Control And Prevention) is the national public health institute of the United States, and is an official government agency with the goal of promoting public health and safety, and preventing disease, injury, and disability. Click here to visit their website.